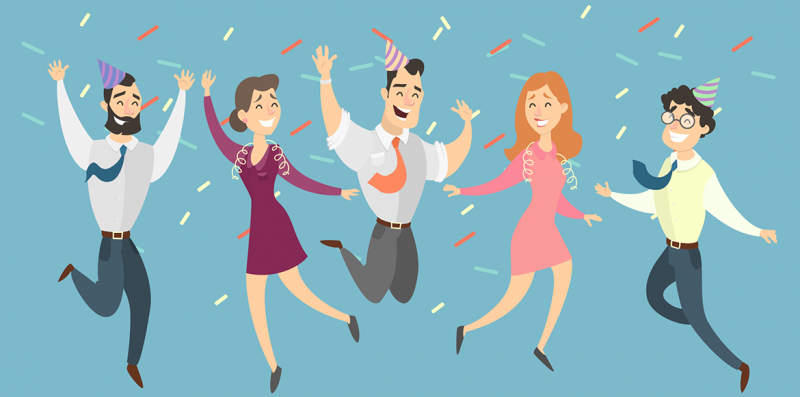 Do you have a friend who got promoted? Want to surprise them and make this event double special for them? No need to filter the internet anymore because your search journey came to an end here, like always we have got your back. We are here with a list of unique ideas for celebrating your friend's promotion.
Business Card Holder
Gifting a business card holder is a perfect way of celebrating your friend's promotion. As promotion means a new position and new business cards which makes business card holders a necessary luxury. It would be better if you gift them a customized one so that whenever they see it, a smile will make its way to their face. Does not matter if they are your close friend or you have a formal relation, either way, this gift would fit perfectly.
Surprise Lunch Party
Surprise them with a lunch party and celebrate with their family or friends. Add a personal touch by decorating the venue with customized banner, theme balloons, fresh flowers, appreciation notes. Set a theme and ask everyone to dress according to the theme. Order a customized cake and do not forget the tag of congratulations. Express your feelings or thoughts about him to make him feel blessed, ask everyone to do the same. Share your experience or acknowledge his efforts to encourage him. Celebrating your friend's promotion on such a personal level would make it an unforgettable event for them.
Decorate Their Cabin
Decorate their cabin only if they are close to you, as this is an informal way of celebrating your friend's promotion. Make sure to do this behind their back to surprise them. Decorate their cabin with fresh flowers, balloons, or sticky notes. Write short messages, blessings, memories, and funny jokes to make them smile. You can leave gifts there as well so that they get surprised by every single effort.
Cake Cutting at Office
Celebrate with other office employees by cutting a cake at the office and treating every employee of the office for lunch or dinner to share your happiness. Also, do not forget to include lower-wage employees to appreciate them too. But for this you need to make sure to take permission from your manager or boss beforehand, you would not want any blunder that will completely ruin your colorful time, do you? And not to forget, this can even get you fired. Make sure their promotion party does not turn into your farewell party.
Personalized Gifts
Gift them personalized gifts to add glitters to it like, travel mug, diary or notebook, inspirational book, pen, or wallet with any encouraging quote, their name, or their position engraved on it. Flower bouquet with tags, balloons, or notes of appreciation or congratulations will also work the same. You can get these delivered to you in no time if you order them through cakes and gift delivery services. These services often offer same-day delivery, early morning, and midnight deliveries.