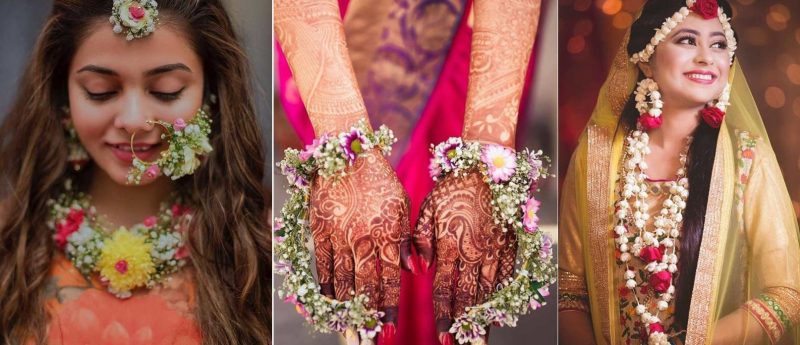 As the pandemic situation of COVID-19 is under control globally. The world has got back to its routine with the new normal practices. The gatherings are officially allowed in many regions with SOPs. So, as peak wedding season is coming soon, are you one of the brides to be? Like others, are you worried about your bridal look? Of course, you must be after all it's your special day. Here are a few of the trending fresh flower bridal jewelry ideas for you. Fresh flower jewelry gives a next level compliment to the bride and looks pretty charming too. You can design your own jewelry set according to the theme of your big day or combination that compliments your dress. To go with the theme, many of the bridesmaids and relatives wear the same jewelry as a sign of guests form the bride's side. Without any further delay, let us get started.
Exclusively for Mehndi/Mayo Bride
Brides wear fresh flower jewelry mainly in Mehndi/Mayo functions as it is the way more traditional and cheerful kind of event. You can easily get your customized jewelry set from any local flower shop or order online delivery to save time. Things that can be done for the head include flower tiara, Matha Patti of jasmine flower with Tika of Rose, Tagetes, Carnations, Daisies, or Chrysanthemum flowers. Or you can simply design your own Maang Tika with a single flower attached at the end. The most trending fresh flower bridal jewelry is a floral choker or necklace with some pearls that go perfect for a classy look. Many of the brides love to wear a neckpiece with multiple layers of pearls. Another essential jewelry piece is a ring made up of the fresh flower. You can add Baby's Breath flower to put some more details to it.
Moreover, you can enhance the beauty of your nose ring by giving it the touch of fresh flowers themed with your jewelry set. Another trending fresh flower bridal jewelry is earrings and heavy Gajra (flower bangles) with some embellishment of hanging floral stems with a piece of rose or any other flower at its ends are mandatory.
Many of the brides love to wear hand adornment that is made up of fresh flowers. It is like rings connected to the bangles. Last but not the least, if you are wearing something like Ghagra Choli or Lehnga; you can add a floral belly chain that will be wrapped around your waist. This will help you to achieve a unique look on your special day.
Jewelry for Wedding Ceremony
For the day of the wedding ceremony, the brides wear different sorts of jewelry sets. However, heavy bangles are essentials for every Pakistani wedding. Not only the bride but bridesmaids and relatives wear this as a sign of shared happiness and this is also known as the identity of guests from the bride's side. Another trending fresh flower bridal jewelry is heavy floral Haar/ Maala for both the bride and groom, this is also one of the essentials of a traditional Pakistani wedding.
Hairdo Essentials
Fresh flowers can be used to enhance the look of the hairstyle. On your big day if you are having a traditional look do not forget to attach fresh flowers around your bun. Place only 2 to 3 flowers if you are planning to have a side bun look. If you are going for braid, you can wrap Jasmine flowers all around the braid. Other flowers that can be used are Roses, Tagetes, Daisies, and Chrysanthemum. You can have a customized mix and match according to your event or theme of the dress.
For those brides who want to have curls on their big day, they can use the crown of fresh flowers which will look pretty in a unique way. Baby's Breath flowers are also widely used for hairstyling by combining with other flowers and gives a breathtaking view. You can order these through cakes and gift delivery services. They often offer same-day delivery, early morning, and midnight deliveries.