Wedding cake is indeed a huge part of the ceremony, however, most people do not give it as much importance as it deserves in terms of giving it a theme. Most people just pick the one they like without caring whether it coordinates with the theme or not. Well, we do not blame them, as a wedding house is full of chaos. There is a mountain of things to be done by a few responsible people, small things like this would not cross their mind until they had planned the wedding or hired a wedding planner, which is costly. So, if you are one of the people who are struggling with making their or someone else's huge day a perfect one then here, for you, we have a list of elegant wedding cakes with flowers to choose from. Hope it helps.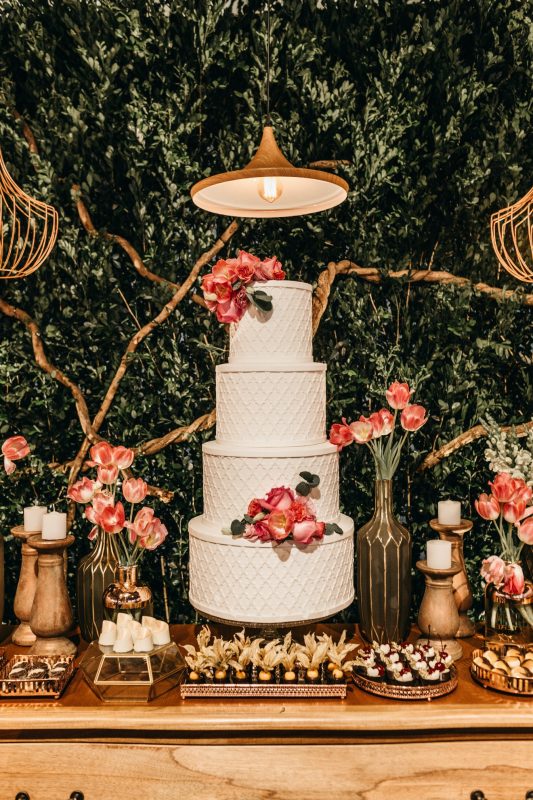 Winter Elegance
This one is the most decent one in this list of elegant wedding cakes with flowers. You can choose a winter-inspired color theme. Color combinations that would fall under a cool theme which is mostly white used with any other color which could be blue, green, or purple, all these fall perfectly, however, pink also looks lovely. Decorate your winter-themed cake by bringing red roses or pink roses.
Royal Highness
For luxurious wedding décor, it is necessary to have a similar level royal cake. Go for a simple lavender-themed cake or you can combine any color with caramel gold. Take your cake game to the next level by adding some edible foil sheets and glitter spray on top of it. To stay creative yet classy, do not overdo it. You can also decorate the cake with golden roses or red roses.
Simple and Sophisticated
Still, confused about selecting the perfect wedding cake that everyone would love? Are you worried about the taste and appearance of the cake on your big day? Simply select a sophisticated one. Select a subtle theme, it could be either a full white cake or cake having different light shades of colors beautifully blending in each other. Decorate it with fresh flowers of combination color, for example, if you are going for a full white cake you can use any bright colored flower for decoration but if you are going for a pink theme, it is recommended to use white roses or daisies for the décor.
Resin Art Inspired Cake
Resin art is the most popular art these days. It is something like marble but possesses more details. The grace is unique because it is hard to create resin art on cakes. It is popular but still not commonly used on wedding cakes which makes it appear more expensive than it is. For such cakes, any flower would fall perfectly because it looks elegant with every flower and you would not be able to decide on one.
Luxurious Marble Cake
This one is the most common yet the classiest in this list of elegant wedding cakes with flowers. It allows you to pick two or more colors that would be poured from the top, allowing it to flow and create a unique design by itself. You can go with hues of blue, purple, pink, and peach with white and gold. Adding white or blue real flowers and golden edible rose on top.